Staircase
During William A. Harper's brief life, he focused his artistic pursuits on representations of the landscape around him, from France, where he studied and lived for part of his life, to Mexico, where he died. He portrayed scenes ranging from fields, hillsides and seascapes to built structures such as terraces, patios and staircases. In "Staircase," Harper uses cool tones as well as impasto brushwork and scumbling to delineate sleek steps, aging walls and winding vines. In the foreground of this quiet and unpopulated scene, a thickly painted potted evergreen anchors the bottom of the steps that leads the eye to two small busts on pedestals hidden under a protective awning.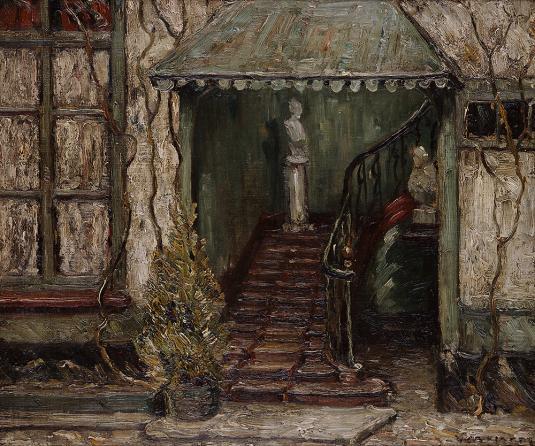 The Walter O. Evans Collection of African American Art
One of the most important collections of African American visual art dating from the 18th century to the present, the collection includes 62 works from Edward Bannister, Romare Bearden, Elizabeth Catlett, Robert S. Duncanson, Richard Hunt, Jacob Lawrence and others. This collection forms the foundation of a multidisciplinary center for the study, understanding and appreciation of African American art and culture. Items from the collection have previously rotated in the Evans Center Gallery and through unique exhibitions such as the 2012 "Life's Link: A Fred Wilson Installation," and the 2017 travelling exhibition of Jacob Lawrence's work.
1908
17" x 21"
Not On View