Zinnias in a Pot
A self-taught painter from Louisiana, Clementine Hunter is known for her colorful and straightforward scenes culled from her memories of life on a Southern plantation. Having worked primarily in the cotton fields and then as a domestic servant, her compositions include scenes of outdoor activity and still lifes of everyday objects.
Varied arrangements of zinnias, a flower that can commonly be found in the South, is a subject to which she continually returned. "Zinnias in a Pot" captures a freshly cut bunch of blooms in flat perspective against a vibrant yellow background. The flowers confront the viewer with their simple beauty and vibrancy, extending out beyond the edge of their small blue pot.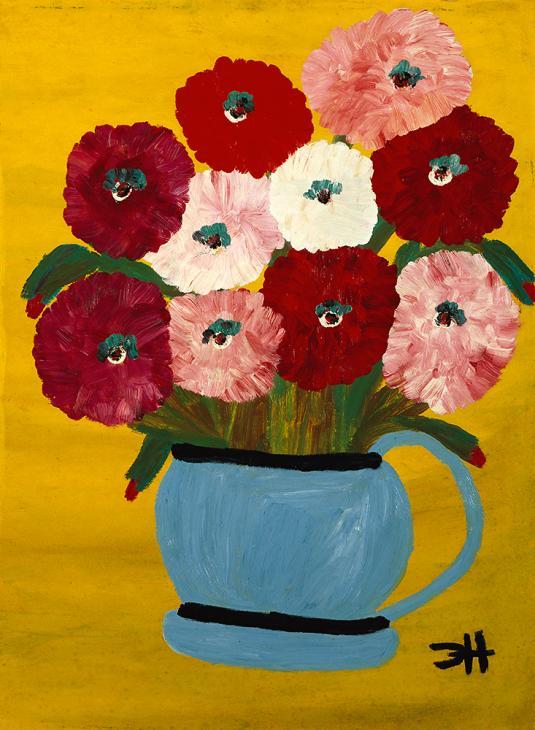 The Walter O. Evans Collection of African American Art
One of the most important collections of African American visual art dating from the 18th century to the present, the collection includes 62 works from Edward Bannister, Romare Bearden, Elizabeth Catlett, Robert S. Duncanson, Richard Hunt, Jacob Lawrence and others. This collection forms the foundation of a multidisciplinary center for the study, understanding and appreciation of African American art and culture. Items from the collection have previously rotated in the Evans Center Gallery and through unique exhibitions such as the 2012 "Life's Link: A Fred Wilson Installation," and the 2017 travelling exhibition of Jacob Lawrence's work.
1965
32" x 28"
Not On View